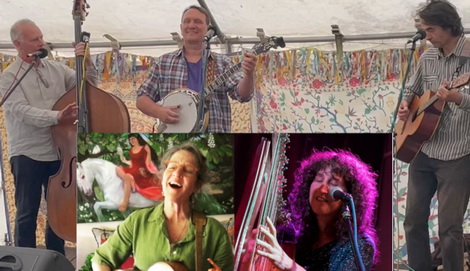 Friday Folk Plus: Vicki Burke & Nicola Clark/ Jeff Lowson Trio
Every 3rd Friday of the month it's Folk Night at the Art Bank!  Come and enjoy folky acts each time.  Doors open at 7 with music from around 8.  Free entry but magic hat donations encouraged, £3 recommended donation
Vicki Burke & Nicola Clark 
Nicola Clark, established visual artist, started writing and singing her songs when she went to live in
Cornwall 20 years ago. Often billed as the Singing Self Help Book, her songs deal with death and love
and everything in between with humour, pathos and joy.
Vicki Burke began life as a saxophonist. She found her voice when she bought a harp 19 years ago and
as she stepped onto this new life experience and beyond, she started writing. Her jazz/folk infused
songs, exploring archetypal stories and lifecycles, have been her constant companion on her journey.
Meeting just before Lockdown, Nicola and Vicki started playing with the notion of working together and
here you can hear them weaving their music and musicianship together.
Joff Lowson Trio 17-02-23

Joff Lowson is one of the UK's foremost performers of traditional American music. With a line
up of banjo, guitar and double bass, their show includes ragtime, jazz, gospel and some original
songs as well as spectacular bluegrass showstoppers and quirky Victorian parlour pieces. You
will be amazed at the variety of music to come out of this trio!