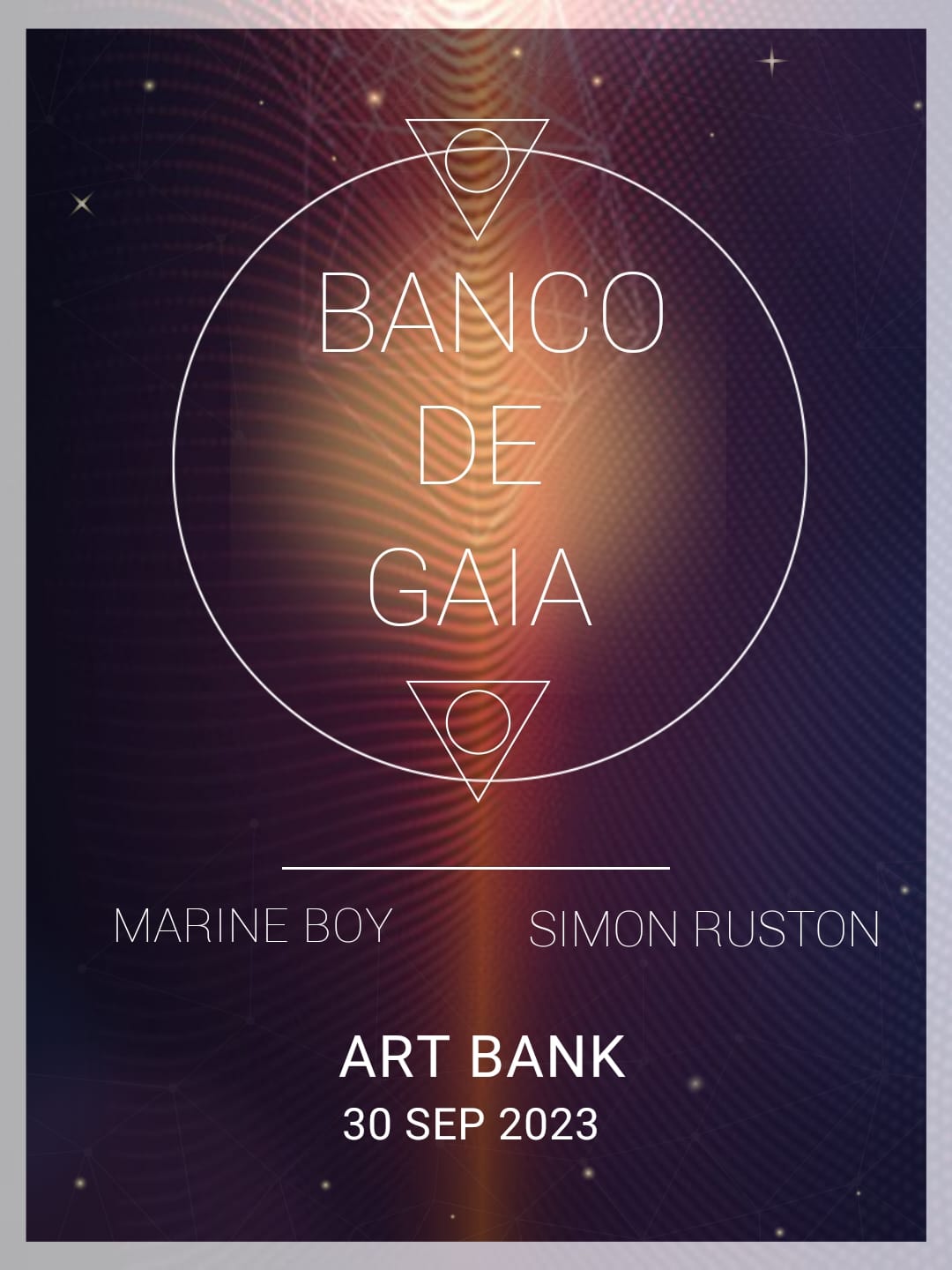 Fundraising Ball: Banco De Gaia, support: Marine Boy, Simon Ruston
The legendary Banco de Gaia play at this fundraising ball in support of the work we do here at the Art Bank, kindly supported by DJs Marine Boy and Simon Ruston, with projections from Patrick Dunn.
For three decades, Banco de Gaia (Toby Marks) has been consistently redefining world electronica, with his music leaving an indelible footprint on the global scene, sparking many a dancefloor and inspiring countless musicians to follow. His sound has been at the forefront of blending acoustic and electronic sounds, integrating themes and techniques from cultures and traditions the world over, and along the way he has worked with musicians and producers as ingenious and diverse as Pink Floyd's Dick Parry, Natacha Atlas, Tim Wheater, Eat Static, Zion Train and Paul Horn – to name just a few.
The first releases of Banco de Gaia, or Toby Marks, were on the early 90's Ambient Dub compilations that spawned a thousand "chill out" albums. Planet Dog Records released his first album, Maya, in 1994, which received a Mercury Music Prize award nomination, and followed it in 1995 with Last Train To Lhasa, which hit #1 in numerous charts in the UK and abroad, and found a home in many DJ's selections, including the legendary Sasha and Digweed.
The next decade saw the release of a handful of classic albums: Big Men Cry, The Magical Sounds of Banco de Gaia, Igizeh, You Are Here and Farewell Ferengistan, with Drippy from Big Men Cry featuring in Darren Aronofsky's cult film Pi.
Banco de Gaia's music was never about sitting in recording studios only, though. He is known as well for his numerous live performances and ability to energize a dancefloor. His performance history is as diverse as it is extensive, from performing solo with a laptop to using racks of hardware accompanied by a team of live musicians and other artists, such as video artist Mik Findlay. Two Thousand and Four, a DVD cataloguing the video shows, was released as a collector's item in 2005.
2007 was a notable year for Banco de Gaia, who performed and recorded a 23 minute cover version of Echoes by Pink Floyd, featuring live guitar, video, and electronic manipulation. Further cover tracks were eventually featured on the first of two discs that made up the retrospective Memories Dreams Reflections, with the cover of Hawkwind's Spirit of the Age resulting in performing alongside them during their 40th anniversary tour.
In April 2013, Banco de Gaia released his first new studio album in seven years, called Apollo. This album contained nine completely original Banco de Gaia compositions which ran the gamut of electronic music, encapsulating ambient, dub, tribal and gypsy, techno, trance and breakbeat. This was followed by a remix album containing remixes of tracks from Apollo by System 7, Gaudi, Kaya Project and Desert Dwellers, amongst others.
2014 marked the 20th anniversary of the release of Banco's debut album Maya and was celebrated with the release of a special triple-CD edition featuring the original album plus remixes and previously unreleased versions of the album's tracks. Live shows throughout the year featured tracks from the album plus a variety of classics new and old.
We are honoured to host Banco de Gaia and DJs Marine Boy and Simon Ruston at the Art Bank and thank them, along with artist projectionist Patrick Dunn, for giving their time freely in aid of our little independent arts venue. Doors at 7, late bar till midnight. Tickets £10 from the venue in advance, +booking fee on Eventbrite, £15 on the night.