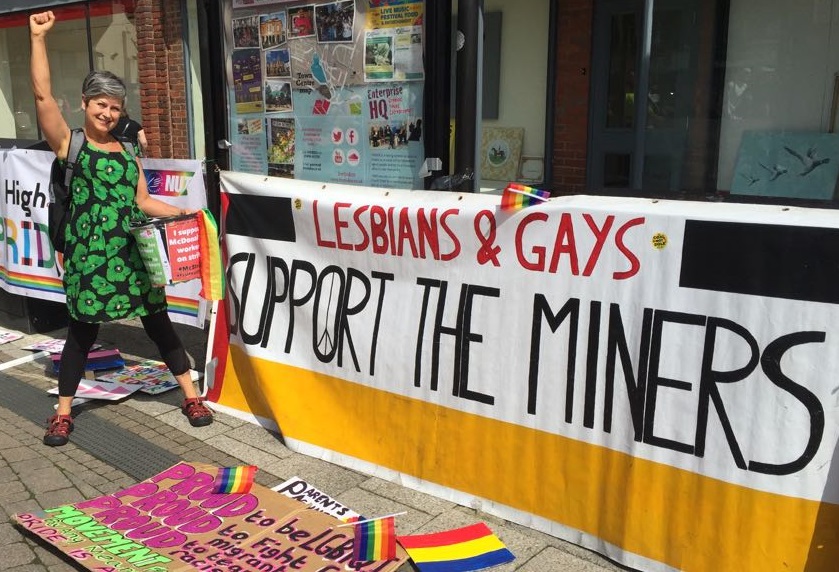 The Real Story Behind the Film 'Pride'
The Real Story Behind the hit Film 'Pride': Video Screening and Discussion with Nicola Field of LGSM, part of the Art Bank's Friends of Dorothy LGBTQ+ season.
Have you seen the hit film Pride?
If so, you will know about Lesbians and Gays Support the Miners (LGSM), the London LGBTQ+ group which raised money to keep striking mining communities from being starved back to work during the Great Miners' Strike of 1984-5.
Nicola Field was a member of LGSM. A writer and artist based in south London, she has remained a socialist activist ever since, taking part in campaigns over anti-racism and against austerity, climate change, housing, defending the NHS and education against privatisation and cuts, Covid justice, and the continuing fight for LGBTQ+ rights and liberation.
Nicola will be showing the short film All Out! Dancing in Dulais, which was made by LGSM in 1986 in the aftermath of the strike. She will talk about what life was like in Thatcher's Britain and draw parallels between the Tory governments then and now. "In the 1980s LGBTQ+ people were scapegoated as a threat to children and enemies of British values, much as Muslims and migrants are demonised today," says Nicola.
There will be lots of time for questions and discussion and about what lessons we can take from the LGSM experience.
Nicola will also be signing copies of her book Over the Rainbow, which contains the first ever account of LGSM published in a book, which will be on sale for £14 (usually £19.99).
We welcome everyone to this special evening of friendly discussion and would encourage everyone to watch the film 'Pride' before attending the event. Doors open at 7, talk and screening from around 8/8.30