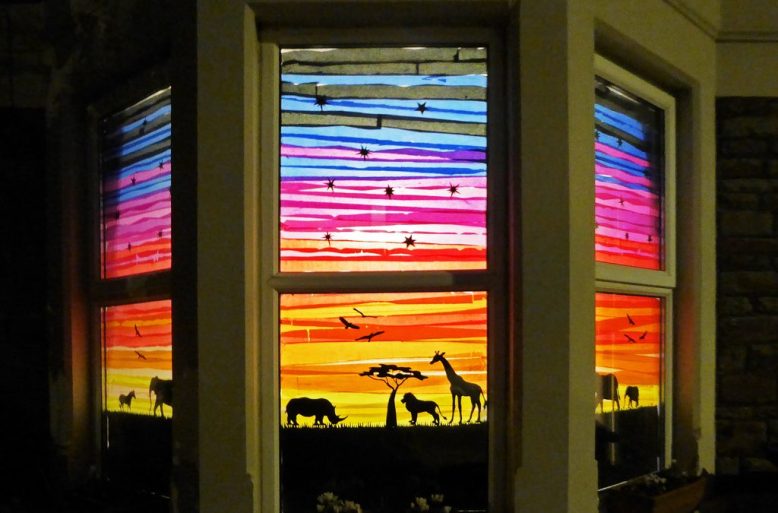 Community Cut Out Evening for Window Wanderland
Help turn Shepton Mallet into a magical Window Wanderland this March – Thursday 5th – Sunday 8th (with entertainment and events on Friday and Saturday in the town centre).  This Community Cut Out evening allows you to work alongside artist Elly Wdowski to create artwork for the Anglo Building's windows as well as to get more information about the Window Wanderland concept.
Window Wanderland encourages communities to decorate their windows – either with lit up paper or installations and share a special message with their community. It was an initiative started in Bristol and is now international. See https://www.windowwanderland.com/ for more info.
Window Wanderland is a great way of bringing the community together and encouraging local people to explore Shepton Mallet and get to know their neighbourhood more. Its a great opportunity to showcase Shepton's iconic buildings, high street, community organisations and people
Lots of Shepton's iconic buildings are taking part: The Art Bank, The Anglo,  Haskins, The Library, local schools and its a fun way to come together – open to all.
The final event takes place from the 5th – 8th March 2020 and is supported by Somerset County Council Improving Lives and Wells Festival of Literature and will run concurrently with All the World's Our Playground performance at St Paul's School.
Supported by The Art Bank,  Make the Sunshine and the Rubbish Art Project.
Workshops supported with funding from SSL (Somerset Skills and Learning)