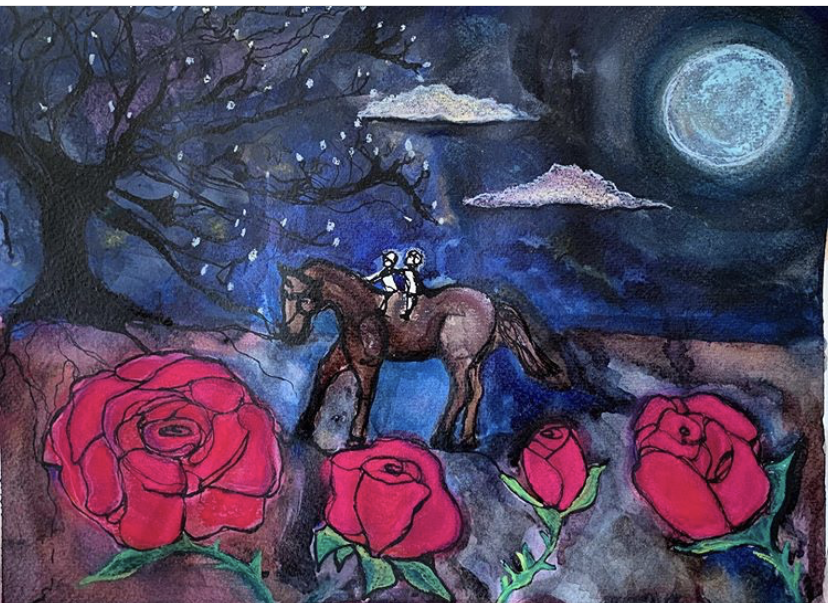 Online Workshop: Marc Chagall- Colour and Emotion
Join artist Lucy Marian Alexander on this two-part online workshop powered by Zoom (the artwork used to advertise this course is by Lucy Alexander and inspired by Chagall). You just need paper and lots of lovely colours (pencils, paints, chalks, felt-tip pens, inks.. anything you like).
Lucy says: 'Chagall's romantic, colourful and naive work is a massive source of inspiration for my own work. His wonderful colours and experimental free way of painting makes art feel accessible. In this course we will look at how Chagall depicts emotion through his use of colour and composition and how this can feed our own creative study.'
"All colours are the friends of their neighbours and the lovers of their opposites" – Marc Chagall
*You must enrol for this workshop before it begins; email info@artbank.org.uk to reserve your space. It is free if you are 19 or over and are resident in the county of Somerset, thanks of funding from Somerset Skills and Learning (SSL). If you have already taken a free online workshop in June or July there will be a small charge of £5 per year.