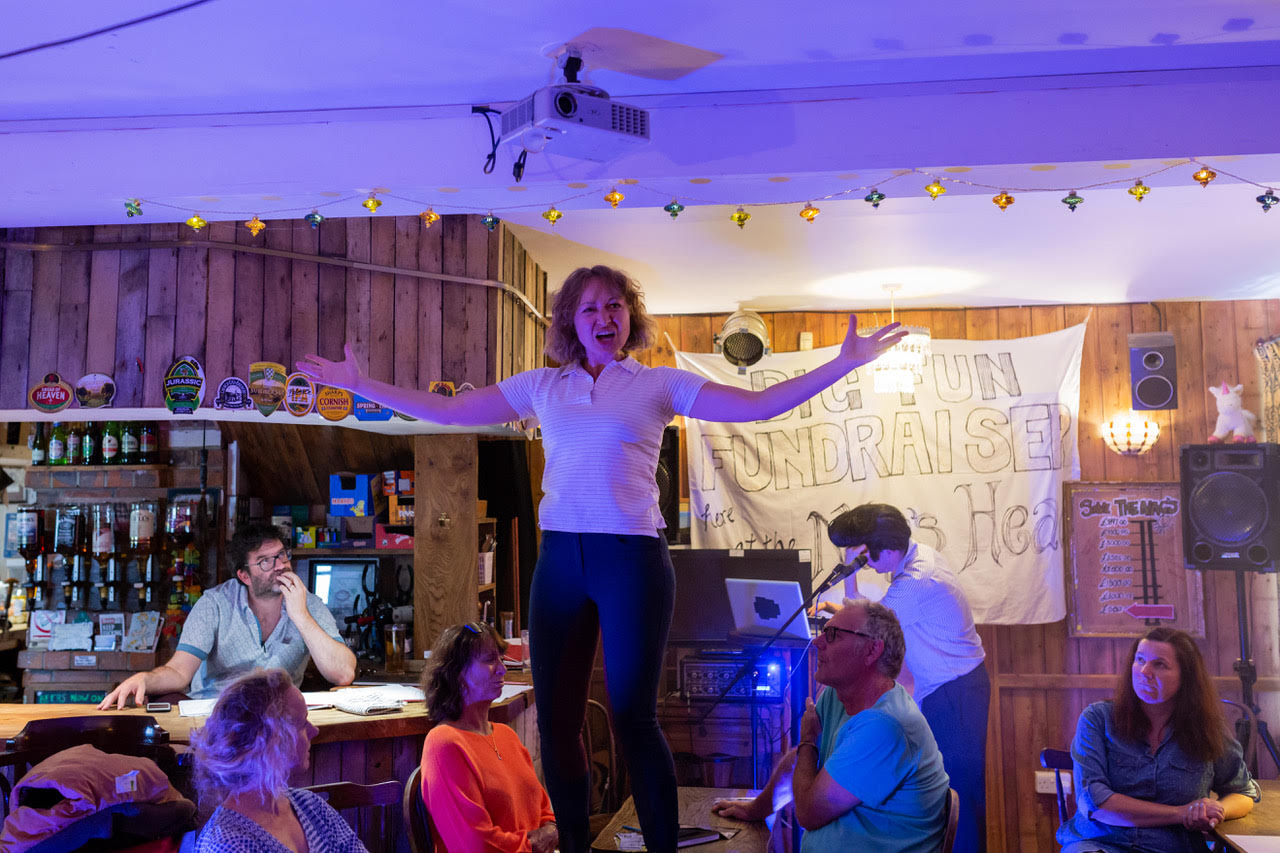 Theatre: Horses! Horses!
*Free Entry, but please donate generously  at the end of the performance.  Donations are shared between the project and Wassail Theatre Company.
Show starts 7:30 with an 20 minute interval.
Wassail Theatre Company and Theatre Orchard present
Horses! Horses!
A pub play by Rina Vergano
"The Pub is the Hub, ladies and gents. It's use it or lose it time".
Johnny's putting on a Big Fun fundraiser tonight at the Nags Head, though he's not in the mood for fun.
HORSES! HORSES! is the darkly comical tale of a stolen horse, wild west-country soul and the mess we make of relationships.
Landlord Johnny is desperately trying to save his pub, while his wife Susie is hiding out on Ted's farm.
HORSES! HORSES! is performed in the midst of the local boozer with pub games, pints, crisps, heartbreak and laughter, country music, lots of karaoke and a few surprises.
"Bursting with delicious West County flavour, music, unexpected dancing, bitter sweet reality and a lot of laughs." Weston Super Mum
"A raucous, tender, enthralling and very entertaining evening." South Bristol Voice
"Half hyper-realistic collapsing pub quiz, half mystical exploration of the connections between people, and between people and the land. A completely joyous theatre experience (and a great night out at the pub). Buy a pint and play along." Exeunt Theatre Magazine
Shortlisted for the Tobacco Factory Theatres' Scriptspace Award, HORSES! HORSES! was first developed through Bristol Old Vic Ferment.
Wassail and Theatre Orchard are joining forces to put HORSES! HORSES! back in the saddle as it gallops into pubs and community venues across Somerset & the south west. This has been made possible by public funding from The National Lottery through Arts Council England.
Creative Team
Written by Rina Vergano
Directed by Emma Callander
Sound Design by Greg Hall
Design by Julie Read
Performed by Kesty Morrison, Eoin Slattery and George Williams.
Photo credit: Paul Blakemore